Welcome to the Spectacular Island of Lefkada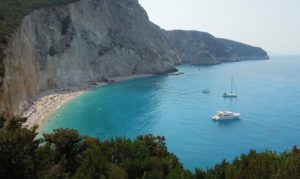 If you are in love with crystalline waters and endless stretches of sand along the coast, then Lefkada is a splendid destination for you to consider. Located in the Ionian Sea, this island boasts some of the world's most iconic beaches. If you have ever heard of "Porto Katsiki" or "Kathisma" beach, they belong to Lefkada. And they are not the only beaches where travelers are left in awe, once arriving at the scene and gazing all around.
Lefkada has been named after White color, since Lefko means White in Greek. Among the finest attractions on the island, the harbor with the lovely bridge and the cafés and restaurants inviting you in! It is a marvelous place, where you can gaze at the sea and enjoy the sunset every night. Of course, it is not a large harbor and there are no commercial boats or pollution and crowded docks.
There are places of amazing natural beauty, such as the Waterfalls at Nydri and the Monastery at Faneromeni, the Lighthouse and the Sea-Lakes.  But above anything else, Lefkada is world famous for its heart-tingling beaches.
Porto Katsiki
This is the most popular beach in Lefkada. It is world famous for its fierce rock formations, since the landscape takes your breath away. The beach features small pebbles and you need to climb down a set of stairs, in order to get there. But once you have arrived, you are totally blown away by the mystical surroundings. The vastness of the sea before your eyes is stunning! Its name comes from the goats, since it is literally translated as "Goat Port".
Kathisma
Kathisma is much more accessible as a beach. You can get there by car and there is a huge stretch of soft, silky sand where you can sit back and relax. Obviously, the beach is fully organized and so you can lie back on your sun lounger, under the shade of the umbrella, order iced cold coffee and marvel at the transparent waters. And it is great that the beach is so huge, because it is preferred by many travelers and can serve literally thousands. The name Kathisma means the Seat in Greek.
Amongst the best beaches on the island, you are encouraged to visit Egremni and Agios Nikitas, Agios Ioannis and Vassiliki. The beaches are all marvelous, providing the ultimate backdrop for exotic dives and breathtaking views!